Aegis Archaeology Reports 2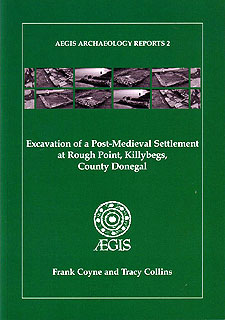 The Excavation of a Post-Medieval Settlement at Rough Point, Killybegs, County Donegal
FRANK COYNE AND TRACY COLLINS
This is the second in a series of Aegis Archaeology Reports, The Excavation of a Post-Medieval Settlement at Rough Point, Killybegs, County Donegal, (published 2004), details the excavations necessitated by the development of Killybegs harbour, involving the construction of a new quay, and the reclamation of 28 acres from the sea.
Five rectangular drystone structures were excavated, dating to seventeenth century. This 67 page report (ISBN 0-9541765-1-0), is illustrated with plans and a photograph of each house. The site is set in both its historical and archaeological context, and also contains a comprehensive discussion on the importance of the site.
Details: Authors Frank Coyne and Tracy Collins. Quarto size, 67 pages, frontispiece, 8 figures, 12 plates (11 black and white, 1 colour), and 2 tables. This book can be purchased directly from Aegis Archaeology Limited 32 Nicholas St, Kings Island, Limerick, Ireland, for €12 plus €2 postage and packing (draft or cheque payable to Aegis Archaeology Limited).
————————————————————————————————————————–
ORDER FORM 
Return this Order Form along with Payment to: AEGIS ARCHAEOLOGY LIMITED, 32 NICHOLAS ST, KINGS ISLAND, LIMERICK
Payment can only be accepted by cheque, postal order or draft, made payable to AEGIS ARCHAEOLOGY LIMITED
Please supply _____ copy/copies of
The Excavation of a Post-Medieval Settlement at Rough Point, Killybegs, County Donegal @ €12 per copy (Please add €2 postage and packing per copy) Send to:
NAME:   ____________________________________________
ADDRESS: ________________________________________
PHONE:  ___________
E-MAIL: ________________________
Payment Enclosed: € ________
For Office Use: